SPONSOR the
     "
Virginia – Carbon Free Energy– License Plate

"
                                                                                               Campaign
We are seeking a Virginia non-profit sponsor to help us host a
"Nuclear Carbon Free"
awareness effort.
This grassroot effort to have Virginia Recycle Used/Spent Nuclear Fuel, believes that the more you notice something beneficial the more you will know about it. WIND, SOLAR & NUCLEAR define Carbon Free Energy. It is amazing how specialized license plates can raise awareness.
Wouldn't these look great on Virginia highways?!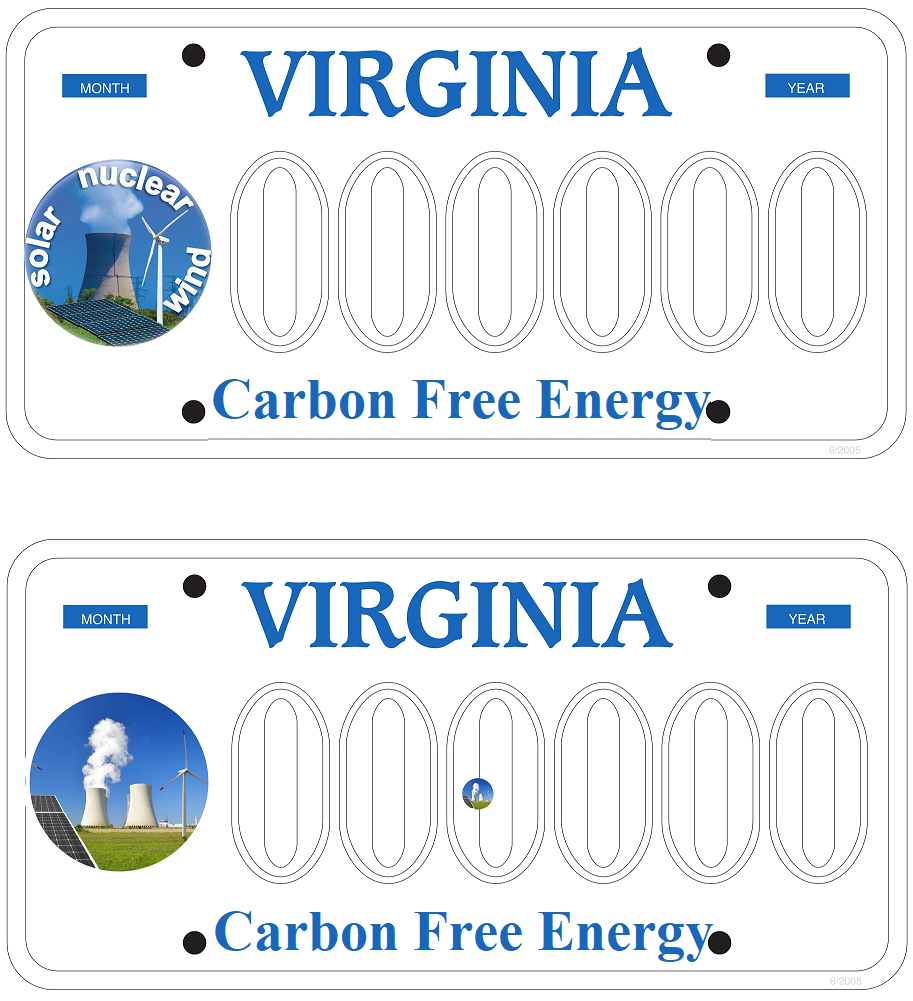 The best part is that this will help fund clean energy public education.
The Virginia General Assembly can designate an eligible entity to receive a portion of the annual plate fees paid for certain license plates. After 1,000 qualifying plate sales, Virginia Department of Motor Vehicle will return $15 of every $25 collected annually to the designated entity. The entity must (i) provide to the Commonwealth or its citizens a broad public service that is to be funded, in whole or in part, by the proposed revenue sharing special license plate authorization and (ii) be at least one of the following:
A nonprofit corporation as defined in § 501 (c) (3) of the United States Internal Revenue Code;
An agency, board, commission, or other entity established or operated by the Commonwealth;
A political subdivision of the Commonwealth; or
An institution of higher education whose main campus is located in Virginia.
So, any non profit care to Sponsor this Campaign while also creating a funding stream for your organization..... email Steve or Tom a call today and your group could be in the running to be a part of the campaign!